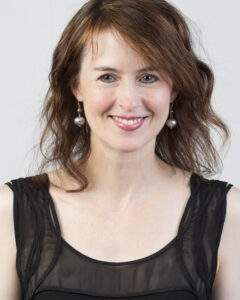 Patricia Julien is a jazz flutist and theater, media, and concert music composer. She has composed the music for more than fifteen theatrical productions, including The Taming of the Shrew, Marat/Sade, The Witches, The Arabian Nights, Peter Pan, The Clean House, Eurydice, Ostentatious Poverty, and India Song. She also wrote the music for the 2015 musical O, Caligula! A Mvsical.
Patricia has composed the music for three short films, including the animated short & Gretel Hansel KinRumpelStilts premiered at the Middlebury New Filmmakers Festival in 2022, and various commercials and webcast themes and underscore.
In her concert music work, she composes works for mixed-voice choral ensembles, solo voice and piano, orchestra, contemporary chamber ensembles, small jazz combos, and big band. Patricia has received numerous commissions and her works have been performed throughout the United States and in China. Several of her works are published with Imagine Music Publishing.
Patricia holds the degree Master of Music in Jazz and Commercial Studies from Manhattan School of Music, with emphasis on performance (jazz flute) and composition/arranging. She has appeared in concert at Carnegie Hall, Weill Recital Hall, Alice Tully Hall, and The Kennedy Center. Concert tours with Persian singer Dariush included the eastern United States, Canada, and Europe. While living in New York City, she performed frequently at Birdland, The Knitting Factory, The New Music Café, CBGB's, and The 55 Bar, and has worked with such artists as Ari Hoenig, Ron Elliston, Atilla Engin, and Kenny Wessel. She has recorded four CDs as leader: Swimming in the Sun (2015), Still Light At Night (2012), and Glee (2006) by the jazz quartet Patricia Julien Project, and Frame Problem (2010) with her fusion group Fragile Zoe.
A Professor of Music at the University of Vermont, Patricia teaches courses in music theory and jazz composition and arranging. Before arriving at UVM, she taught at Skidmore College, George Washington University, and University of Maryland, College Park. She holds the Ph.D. in Music Theory from the University of Maryland, College Park; her research focused on the early compositions of jazz saxophonist and composer Wayne Shorter. Patricia has presented at the national conference of the Society for Music Theory, at regional New York State and New England SMT meetings, and, by invitation, at the Sorbonne in Paris, France, and various U.S. universities. She has published articles and reviews in Theory and Practice, Annual Review of Jazz Studies, Jazz Education Journal, Jazz Perspectives, and Journal of Music Theory Pedagogy.
Patricia lives in Vermont, rides a unicycle, loves cats and chocolate, and is fluent in Logic Pro X, Reason, and Sibelius.